Joining forces under the new name Vendilli Digital Group, ProFromGo Internet Marketing, LLC and Media Post, Inc, announce the merger of their two companies.
The new Vendilli Digital Group will deliver to small business clients a broad suite of integrated digital services which have seen a steep and critical rise in importance in a post-COVID-19 environment as businesses strive to reach their customers in a virtual and online world.
Chris Vendilli, CEO of ProFromGo is the CEO of this new venture and Rob Donaldson, one of the original co-founders of Media Post, Inc., is the director of operations.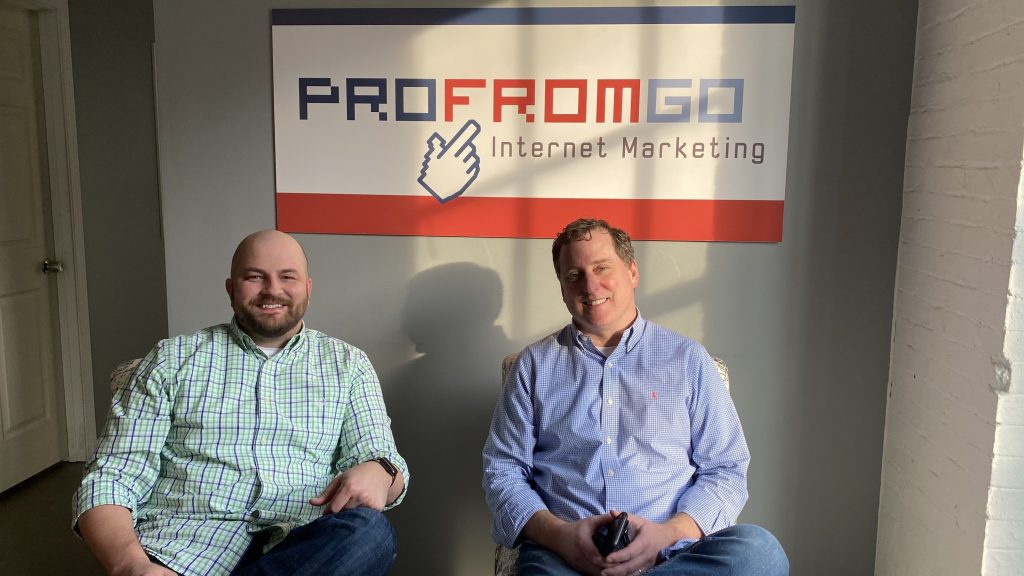 Chris Vendilli, seated to the left, and Rob Donaldson to the right, have combined their companies under the new name Vendilli Digital Group.
Based on the combined core competencies of the two teams, Vendilli Digital Group will be positioned well and at the sweet spot of multiple emerging trends. The need for digital, virtual, and online marketing and sales execution has changed dramatically for business to business (B2B) and consumer marketing.
McKinsey states in an October, 2020 report that for B2B sales, digital is the wave of the future and that, "the COVID-19 pandemic forced B2B buyers and sellers to go digital in a massive way. What started out as a crisis response has now become the next normal, with big implications for how buyers and sellers will do business in the future."
Chris Vendilli stated, "ProFromGo has always been an ROI-focused partner to clients providing services in HubSpot CRM training and implementation, and of course web design and online marketing. Media Post's core capabilities in the areas of web design and video production will pair perfectly with our inbound marketing and online advertising services. Our deep experience with HubSpot's sales and marketing platform will continue to be a point of differentiation for Vendilli Digital Group and allow our clients who adopt these tools more insight and intelligence as to how they can make better decisions with their sales, marketing and advertising investments."
Rob Donaldson, who assumed new duties as the director of operations at Vendilli Digital Group added, "the merger of these two teams will allow us to take the best parts of each agency and combine them in a way that clearly stacks up more value for our clients. In a time where in-person meetings and events are no longer the norm in business, using high-quality video with strong production value as a digital communication tool will certainly give our clients a competitive advantage when it comes to communicating with their customers and prospective customers."
The resulting company will maintain accreditation as a VA certified Veteran Owned Small Business (VOSB) as well as a Platinum tiered HubSpot Solutions Partner.
Growth Attributed to Evolution
Media Post, Inc. has been in business since 1991. ProFromGo started operating under a different name in 2007 and was officially incorporated on May 1, 2011. Both companies attribute their success to constantly learning new skills to evolve with digital trends and perpetually aiming to solve both the technical and marketing challenges of their clients.
Anticipating Clients' Needs
ProFromGo has been a HubSpot Solutions Partner since 2013 and earned status as a Platinum-tiered HubSpot partner in 2019. Most of the marketing and advertising campaigns executed on behalf of clients have deep integration with the HubSpot CRM and marketing automation platform which allow small business customers to track marketing and advertising investments more effectively by closing the loop between the source of a lead all the way through to new revenue resulting from these marketing efforts.
Chris Vendilli and the team hold numerous HubSpot certifications to include status as one of the only HubSpot Certified Trainers in the Greater Pittsburgh region.
A few of ProFromGo's notable clients include Hefren-Tillotson, Airline Hydraulics, AccuTrex Products Inc, and Framesi Professional.
Media Post History
Nearly 30 years ago, Media Post Inc. began as a video production company serving small business and corporate clients throughout Western Pennsylvania. They specialized in television commercials and corporate marketing and training programs utilizing in-studio and on-location shooting, post-production and 3D animation.
Realizing that the future delivery for video was the web, they added website design and development services in 2002 and became known as a full-service multimedia agency. Soon after, live event streaming was added as a service, as companies saw the benefit of broadcasting their message to multiple offices around the globe in real time.
Over the years Media Post has produced thousands of videos and web sites for multiple markets and end uses. Their clients include Deloitte, Omnicell and Advanced Polymer Technologies among many others.
Better Together
Until the new branding and web presence for Vendilli Digital Group is fully launched, the company will operate under the existing ProFromGo name. Until then, interested parties can learn more at ProFromGo.com