In the 1946 film It's A Wonderful Life, protagonist George Bailey (spoiler alert!) ends up the richest man in town. While this is a major plot twist—George operated on next to nothing while giving his all to serve his customers and community—the classic movie reminds us of an important message to take away at the holidays: Money isn't the only measurement to living a successful life.
George's success as a good person didn't happen overnight though. His secret? George is an expert at inbound marketing—and he doesn't even know it!
What is Inbound Marketing?
Inbound marketing is a digital marketing process by which you build lasting, trusting relationships with your customers over time–turning strangers into promoters again and again. This approach to digital marketing focuses on delivering meaningful content to potential customers to educate them and connect them to your brand–without people feeling like they are being sold to. It's a customer-centric, long-term investment that may not result in sales overnight but ultimately creates conversions from the right people at the right time. The strategy takes time, effort, and investment to pay off.
Inbound marketing is more about helping people than selling to people. Anyone who has watched It's a Wonderful Life knows that George Bailey dedicates his life to helping others, even at his own expense. In the end, George's methodology prevails.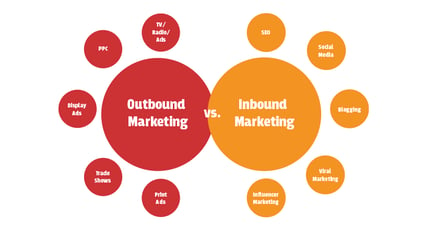 The Flywheel
Inbound marketing can be illustrated by the following flywheel, a model adopted by HubSpot, the CRM platform Vendilli Digital Group uses. As you invest in inbound marketing strategies, momentum builds to attract and retain customers. Your marketing, sales, and service teams are forces that coexist and align to help the flywheel spin and create growth. Lack of communication, consistency, and alignment in these customer service areas will cause friction and increase the overall time it takes for your investments to yield returns.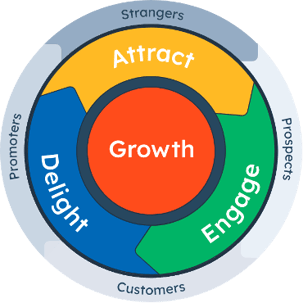 Attract
The Attract Phase involves getting the word out about your business and bringing in new customers. While digital marketing strategies such as strategic keyword research, SEO, social media, and blogs didn't exist in the film's early twentieth-century setting, George still knows how to attract the right people to Bailey Building and Loan.
By being customer-centric, George builds a reputation for himself in Bedford Falls with grace and patience. He is more focused on his customers' happiness and success than his competitor by not foreclosing on many at-risk mortgages or forcing evictions.
In delivering solutions that are focused on solving his customers' problems, George makes it easier for the people of Bedford Falls to obtain the financial means to invest in their dreams, and he becomes a trusted problem-solver to the community's needs.
Engage
In the Engage Phase of Inbound marketing, the purpose is to engage with your prospects in a meaningful and valuable way, laying the groundwork to create lasting, trusting relationships that will ultimately lead to conversions.
The Engage Phase of George's inbound marketing journey is evident when Bailey Building and Loan experiences a run on the bank. Customers arrive demanding to withdraw their assets. George abandons his honeymoon plans in order to service them. Unable to produce enough cash, he and his wife offer up their honeymoon fund as a start. While dispersing the money, George makes a point to his panicking customers: When you invest in and do business with Bailey Building and Loan, you're investing in something much larger than yourself. You're investing in those around you—helping others to also achieve their dreams.
While this is a unique style of engagement for inbound marketing initiatives, George uses what he has available to communicate to his customers the value of his small financial institution. Today, some examples of digital marketing strategies implemented during the Engage Phase of inbound marketing could include pop-up forms, email marketing, downloadable content offers, and compelling calls to action.
Delight
The Delight Phase of inbound marketing is about giving your customers an experience they can talk about for years to come. Happy customers will spread the word about you and become the biggest, most important advocates for your brand.
George builds delight in his customers in many ways, but we can see that truly take shape at the unveiling of Bailey Park, an investment community that provides funds and resources so residents can purchase decent homes. In this scene, we witness the "Welcome Home" ceremony for Mr. and Mrs. Martini, a joyous community celebration honoring the Martini family for achieving their dream of home ownership. This is all made possible by the dreams and visions of George himself.
Fast forward to where George is at his lowest point–out of a job and money. He finds himself in Martini's bar, drinking away his sorrows. When a bar patron punches George in the face, Mr. Martini kicks the assailant out, shouting that he doesn't tolerate anyone mistreating his friends. As a result of George's past efforts in building relationships with people and helping Mr. Martini and his family when they needed it, he has earned Mr. Martini's unwavering loyalty.
But, the Delight stage of George's journey doesn't end there. When facing the reality of jail time after losing $8,000 worth of customer funds–and seeing in a vision how much worse the world would have been if he had never lived–George is met with the most amazing surprise. His wife and uncle manage to rally the townsfolk–all the people who have been impacted by George's goodness–to donate the money George needs to keep the bank afloat and himself out of prison. The citizens clearly recognize the hard work George has done for Bedford Falls and themselves. Through dedication and perseverance, George has turned strangers of his brand into promoters.
If George Bailey lived today, here's how I would see him:
He'd still be running a successful business built on solid moral principles and trust.

He'd understand the value of creating meaningful content for his target audience to answer their questions and address their concerns when they need it most.

He'd reach out to his contacts via email with personalized content tailored to fit their needs.

He'd be actively engaging with his audience on social media.

Most importantly, George would know the importance of investing in a robust digital marketing tool for his sales, marketing and service teams–like HubSpot–to help him deliver the right message to the right people at the right time–building their trust and respect.
George Bailey is the true embodiment of the American spirit. He understands that the investments he makes in the people and resources around him don't always make him a dollar right away, but, in time, they make a lasting impact all around.
This New Year, take some time to remember who your customers are and what they truly value. You may come to find that, as the angel writes in the preface of his Tom Sawyer book to George, "No man is a failure who has friends."