Congratulations, you're now ranking #1 for that coveted keyword! All that hard work on your SEO strategy has resulted in this achievement. Now you can sit back, relax and shift your focus elsewhere while reaping the benefits, right?
Wrong.
Search engine optimization, or SEO, is fickle, to say the least. Between the algorithm updates, your competitors and the natural evolution of your business, your SEO efforts are never truly finished.
In our previous post, A Different Approach to Website Redesign, we discussed how this attitude should apply to your entire website. It's not beneficial to finish a large website overhaul project and then let it sit for two to five years. Too much changes within that period of time—both internally and externally. That's why HubSpot's Growth-Driven Design encourages marketers to continuously improve their digital space based on how they see visitors interact with their website.
In this post, we'll explain why that's especially important for SEO.
Continually Write Content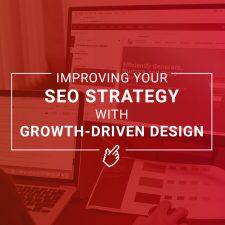 An SEO strategy is basically a large puzzle. If you're missing one piece, it will hinder the end result. Content is one of the biggest—if not the biggest—piece of the SEO puzzle. Without quality, strategic content, your website will simply not rank. That's why most websites include a blog section.
With the spirit of Growth-Driven Design in mind, your website should always undergo improvements. Part of those improvements is frequently updating your blog section. According to HubSpot, there isn't a magical number of blogs you need to be producing. For context, the ProFromGo team aims to produce one blog post every one to two weeks for clients.
However, quality is much more important than quantity when it comes to blogging. In order to see organic value from your posts, you need to be strategic from the beginning of the blogging process to the very end—and beyond (we'll cover that in a later section).
With each new post, you need to conduct keyword research in order to see what your audience is seeking and create content around that. While writing blog articles, you must strategically place primary and secondary keywords throughout your post so search engine crawlers have a good idea of what your intentions are. But you also need to balance writing for SEO with keeping the readability of your post in a good place for the benefit of your audience.
It takes a lot of consistent work to rank for keywords, and once you finally hit that #1 spot, you need to continue working hard to keep it there. (Again, we'll get to this.)
Pursue Off-Site SEO Opportunities
Another significant piece of the SEO strategy puzzle happens off of your website. Now, with what we've already taught you about GDD, it might seem counterintuitive to focus efforts off your website, but bear with us.
Google's algorithm is constantly changing, which means the rules of SEO are always changing. We are also never given a definitive rulebook on how to construct the SEO puzzle and reach that #1 spot. However, seasoned SEO specialists know a few things to be true: Google favors updated, fresh content and backlinks from other relevant, quality websites.
SEOs need to constantly seek out backlink opportunities for their clients (we do!). In fact, one of the first things we do when we have a new client sign on is to use SEMrush to search their backlinks as well as their competitors' backlinks. This gives us an idea of where the client is starting as well as where they stand in comparison to their competitors.
It also provides us a bit of a roadmap to piece together competitors' off-site SEO strategies. Are they pursuing directories? Where have they contributed guest posts? Which websites are bolstering their SEO strength (known as Domain Authority by Moz users and Authority Score by SEMrush users).
How does this fit into the GDD mindset? As you are working on increasing your backlinks, your competitors are doing the same. Your work is never done, so you need to consistently seek out new off-site SEO opportunities to improve the strength of your website.
Write, Promote, Repeat
Is your head spinning yet with all the work it takes for your website to rank? Imagine if you put all of this work off for every few years!
There are several additional pieces to the SEO strategy puzzle. But while our specialists are working on all of them, we don't want this blog article to go on forever. That being said, the last big piece of the puzzle we'll cover in this post is repeating all of the above.
We covered continually writing for your blog, but you also need to go in and update your individual posts. Don't worry, we know you don't have time to do this for every single article. Instead, take a look at your Google Analytics to find which posts are providing you the most traffic and go into your SEO tool of choice to see which ones are helping you achieve the highest rankings for your target keywords. Make sure to continually update those key posts as the information within them evolves.
This is also important with off-site SEO and promotion. When you have a new blog post, you want to make sure you are running it through a content amplification process. The content isn't providing optimal value to you if no one is seeing it. Once published, promote the content to relevant forums, social media channels and groups, journalists, etc.
Repeat all of the above with the updated content. You'll make Google happy because fresh content helps with rankings. You'll also continue to receive important backlinks and show that you are an up-to-date source your audience can trust.
Streamline your SEO Strategy
ProFromGo's SEO specialists are fluent in what it takes for your website to rank as well as the importance of Growth-Driven Design. Contact us to learn more about how we can help your website!