In 2021, changes to Apple's iOS 15 data privacy settings sent email marketers spiralling. Users were now able to opt out of some tracking. For email marketers, this meant they could no longer track opens or determine recipient location, device type or email client for anyone who turns on the Protect Mail Activity feature.
There are about 4 billion daily email users—and about 35% of them use Apple Mail. That means this small change would have a big impact.
Thankfully for HubSpot users, the inbound marketing giant was ready! With metrics that go beyond standard open rates, HubSpot allows you to track contact engagement beyond your emails.
Let's look at some of the ways you can track that engagement and measure your email performance in HubSpot, despite these new privacy changes.
Remember, this change won't impact all email readers!
Apple Mail users make up a large portion of the global market, but not the majority. Despite this new privacy feature, you'll still be able to accurately track data from more than two-thirds of your contacts.
The scale of impact will vary from one business to the next, so start by taking stock of your open rates by email client. The email performance page already includes data that can help you determine a more accurate baseline of average open rates.
In the menu bar, click Marketing.
Select Email from the drop-down menu that appears.

Click on the title of any email.

The page that opens is your Email performance metrics. Scroll to the bottom to see a breakdown of open rates by email client.

Although some Apple Mail users may still allow open tracking, there's no way to differentiate between these users and the ones that don't. Basically, the open rate for Apple Mail users is not to be trusted!
Open rates for Gmail and other email clients, however, will be much more accurate, so you may want to start keeping an eye on these numbers and refocus on improving those open rates.
Open rates are still worth considering
Don't throw the (inaccurate data) shovel out with the snow. ❄️The overall open and click-through rates in your HubSpot reporting are still worth looking at. By now, your average email metrics have already changed as a result of the Apple update, so it's the perfect time to set new benchmarks.
You can continue to focus on improving your overall open and click-through rates from their current levels. Just make sure that when you're comparing email performance metrics, you're comparing results from after the iOS change. Consider adjusting your reports to show results from on or before September 20, 2021.
Look at new ways of tracking email performance
Open rates have notoriously been the email KPI to track, but don't sleep on these equally important supporting metrics.
1. Measure revenue generated by email
If you're not already, start measuring revenue generated by email. After all, that's the ultimate goal of all marketing campaigns! 💸
If you track revenue in HubSpot, you'll be able to see the revenue attributed to each email in the Email Performance tab. Better yet, you can set this as a goal in your workflows or add a revenue attribution report to any HubSpot dashboard so you can keep track of your email revenue at a glance.
2. Don't forget about click data
If you weren't already looking at click data, it's time to start! Click rates show you how many people who were delivered your email clicked a link. This metric won't be affected by the Apple updates, meaning it's a great way to track email performance over time.
HubSpot's click map is an easy way to identify what parts of your email are most engaging for your contacts. This can inform your overall marketing content and design to improve performance. You'll find it on the Email Performance page.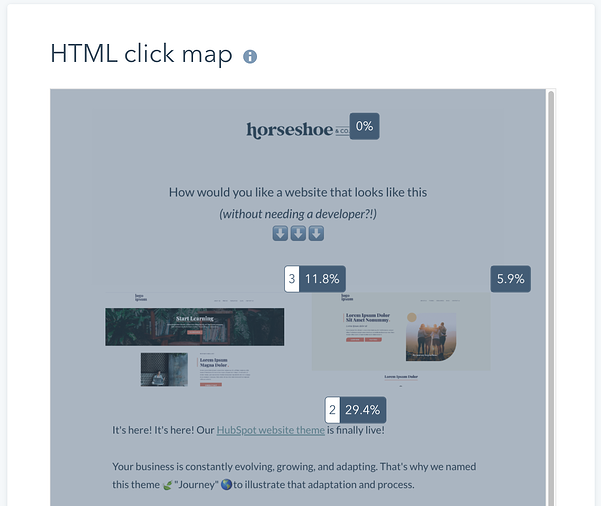 3. Don't forget about click data
Click-through-rate (CTR) is the rate of clicks from people who have opened your email—that means this metric has been impacted by iOS changes.
But the value of this metric makes it worthwhile to continue keeping an eye on—just be sure to compare current rates with data after September 20, 2021!
CTR is like the younger sibling of open rates—it may rely on open rate data, but it's important in its own right. Savvy marketers have been measuring it for years since it's a much better indicator of contact engagement.
How? Open rates may have been a reliable way to measure the performance of your subject lines, but clicking on your CTA tells you how valuable your content really is to the recipient.
It's time to focus on CTR as a key marketing metric, so here are a few tips to help improve your email CTR:
1. Segment your lists and create hyper-relevant content.
Contacts are demanding more personalized content. The better you can deliver exactly what your contacts want, the more likely you are to see higher engagement. After all, email marketing is a one-to-one channel. Unlike social media or your website, where all visitors see the same messaging, email is your chance to write something unique!
Segment your lists into groups that share like interests—both in terms of their business needs and the kind of content they like to consume. Smaller send lists make for better email results since you're able to deliver extremely niche content.
2. Use clear call-to-actions (CTAs).
A clear CTA—both in terms of copy and design—is an easy way to improve email engagement. Make sure readers know exactly what's waiting for them on the other side of your CTA. Use clear, strong language and design that makes it stand out. Use action words to grab your reader's attention:
Download
Get
Start
Create
Use the preview tool to make sure your CTA appears above the fold on most devices and use a design to make it stand out. Still need inspiration? Check out some of our favourite examples!
3. Test CTAs, imagery, and copy.
The secret to great marketing is testing, testing, and testing some more! HubSpot has powerful tools that allow you to perform A/B or even multivariate tests on your CTA buttons. Be sure to run and review these regularly. Try different formats, colours, and copy that drive increased clicks. You can also test your overall email imagery and design by using an A/B test for your emails. Continue to refine and tweak your work until you find what works best for each audience segment.
Find creative ways to build suppression lists
When you send or schedule an email, HubSpot will prompt you to skip sending emails to unengaged contacts. This helps make sure people who aren't engaging with your emails don't drag down your metrics—or worse, unsubscribe!
But you can't rely on the "Contacts with low engagement" list that HubSpot auto generates. This uses open rates to measure engagement, and that means you may be excluding Apple Mail contacts who want to hear from you!

Instead, look at ways to build hyper-focused send lists to ensure you aren't over-saturating anyone's inbox.
For instance, a recent customer may no longer be opening your emails since they are often about your latest promotions, and they're not ready to repurchase. You may want to build a list of customers who've purchased in the last two weeks and send them different content—like how to make the most of their recent purchase—or suppress them from promotional emails for a little while.
Pass on outdated metrics
There are loads of creative ways to measure engagement, but there are two things that you should overlook for the foreseeable future.
Open rates in workflows
Subject line A/B testing
Even the HubSpot email marketing team doesn't rely on open data when segmenting their audience or designing email automations. If you were using this data in either situation before, it's time to pivot. Instead, think about the action you want contacts to take after receiving that email.
For example, if your CTA is a webinar signup, use the webinar registration data rather than the click data to automate the next step in a workflow. Behavioral segmentation is a far better long-term strategy.
As for subject line testing, open rate changes mean A/B tests will no longer provide accurate data so strike that off your list. Focus instead on the CTA or email content tests outlined above.
Incorporate new metrics
Try to be a glass-half-full person and think of this new privacy update as a chance to gain a more comprehensive view of contact engagement. 🥛
Start to look beyond email performance and look at contact engagement across other channels. Monitor average page visits, form submissions, document views (etc.) for a contact to see how often they are engaging with your brand. Then, use it to score your leads to make for easy measuring.
Key Takeaways
It's okay if the great iOS update of 2021 sent you spiralling ꩜, but it doesn't mean you can't still get a clear picture of contact engagement.
HubSpot offers other ways to track how engaged your leads are both when it comes to your emails, and overall. Click data and other stable metrics or contact behaviours—such as site visits—will better reflect your email performance.
But don't overlook the value of your open and click-through rates—with new benchmarks, you can still leverage this data to measure engagement!
Overall, this change shouldn't change much about your email marketing strategy. Continue to send the right, high quality content to the right contacts at the right time. Stay focused on providing a great customer experience and you'll continue to see high engagement!
Start measuring your engagement with HubSpot
If you're ready to get started with HubSpot so you can get an accurate look at your email engagement, we can help. Our team of experts know how to set your business up for success so you can make the most of the analytics HubSpot has to offer! Get in touch with us today.