It may be "spoOoOoky season," but that doesn't mean you should feel haunted by your digital marketing agency. Your agency should be your partner. You should trust your partner to keep your goals and success at the top of their priority list.
So how can you spot the good guys versus the ones who promise unrealistic results? Here's how you can guarantee you're getting the most out of your agency and aren't starring in the latest creature feature.
Beware Of Tricks and Trap Doors
So you've done it; you finally committed to starting a partnership with your new digital marketing agency. During the sales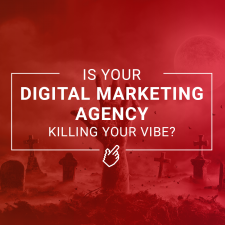 process, they promised an increase in social, site traffic, Google ranking and converted leads with an unmatched ROI. But as time goes by, you're starting to realize now the smoke and mirrors fade away, that you may have walked into a fun house you never intended to visit.
Set Expectations from Day One
When an agency promises you results from day one, proceed with caution (if you decide to proceed). Usually, those results need time to gain strength, and you're not receiving an honest evaluation of what you're going to see.
When you're working with an agency that consistently lets you know if unreasonable or unrealistic expectations are being discussed, you know that they are focused on providing you good service with results you'll actually be able to achieve.
Prior to your first meeting, discuss internally what KPIs are important for you to hit. Identify projects you'd like to work on in order of priority and what expectations you have going into the partnership. From there, work carefully with your Account Manager to create S.M.A.R.T goals, so you have a realistic timeline along with an accurate method to measure.
Investigate Buyer Personas
A great partner will want to learn everything they can about you and your business. That ranges from learning how you operate from day-to-day to who your target audience and biggest competitors are.
A valuable way to demonstrate and strategically understand how your audience would react and behave is through Buyer Personas. Buyer Personas are semi-fictional representations of your ideal customer based on market research and real data about your existing customers. When planning potential email marketing campaigns, digital advertising or blog content, it's important to keep in mind who you are targeting.
Your agency will work with you to create these semi-fictional personas and determine what kind of campaigns would resonate with them most in all stages of the Buyer's Journey. This can help curate really meaningful content for your audience and also help you understand why they think the way they do.
Your Agency Shouldn't Be Like a Ghost
Communication is key in order for you to find success with your agency. And when you have an Account Manager or point of contact that is a little dodgy, it makes it really difficult to hit project deadlines, have questions answered or just to brainstorm and strategize ideas with.
Schedule a Standing Meeting at Your Preferred Cadence
Schedule a standing meeting, whether it's monthly, bi-weekly or weekly. This ensures complete visibility across all team members and keeps current projects at the top of your radar. Also, it gives you an opportunity to look at reporting to determine if there are ways to currently optimize your campaigns or change the way you're executing certain activities.
Not only is this a good time to talk about current projects, it's also a great time to talk about what's next on the horizon. Create a running wishlist where you can add potential campaigns, ideas or projects. This will be helpful when planning for the future and determining your S.M.A.R.T. goals.
Don't Be Spooked If Your Plans Change
In marketing, your plans and goals can change constantly. In a world still adapting to the effects of a pandemic (yes, we almost got through a whole blog post without mentioning COVID!), you've seen this first-hand. Don't be afraid to change where you want to focus efforts. A great agency partner will adapt and work through it with you every step of the way.
Keep Your Data Organized & Easily Accessible
When you have data organized in a comprehensive way, you're more likely to be strategic about what kind of marketing efforts you want to work on. And in an environment where the goal post changes, this kind of information is extremely valuable.
A helpful tool for this is Databox. If you're unfamiliar with the tool, Databox pulls performance data from various systems such as Google Analytics, HubSpot, Facebook Ads, etc., so you can view this information in one place. It makes retrieving data more convenient and is a quick way to see your complete performance at a glance.
Hey, Trust Us, We're the Good Guys!
Looking for a digital marketing agency that is a trustworthy partner and not a bad guy hiding under a mask? That's where we come in! Contact us today to learn more about our marketing services and how we can help you.