Watching TV and movies at home is a popular pastime. Videos can be accessed from computers, phones, tablets, and of course the old standby, televisions. However, viewers often opt to skip commercials -- which is easy when viewing with TiVo, Netflix, or TV box sets. In fact, 86 percent of viewers outright skip TV ads. For marketers, this presents a new challenge, how to get their audience to view their marketing material. Today's customers have the ability to turn off ads and go to competing websites. As a result, traditional outbound marketing and interruption marketing are becoming less effective.
Interruption Marketing
While videos are popular and can go viral, YouTube ads are extremely annoying and not that effective. Viewers tend to only begrudgingly watch what they are forced to in order to get to the video itself. Video ads are a common form of interruption marketing and today's customer simply wants to get right to the "meat" of what they are choosing to watch without interruptions. This attitude is the driving reason that interruption marketing is declining. Savvy shoppers search for information online and do not want pesky ads to stand directly in the way.
Solution: Inbound Marketing
So what is the solution to this new paradigm? Inbound marketing. Inbound marketing is a method of marketing that invites a targeted audience to peruse content that they are interested in and from this invitation funnels them to a conversion (e.g., click, lead, or sale). Inbound marketing has developed primarily for the Internet in all of its aspects, including mobile advertising.
How Does Inbound Marketing Work?
Inbound marketing is designed in such a way that your content marketing is found via search, advertising, or social media. The idea is to create content, videos, images, or text that engages your target market though interactive means. This content can answer questions, provide solutions, or present possibilities to your target audience. To get a visual image of how inbound marketing is design to work, here is an excellent infographic by inbound marketing industry leader, Hubspot: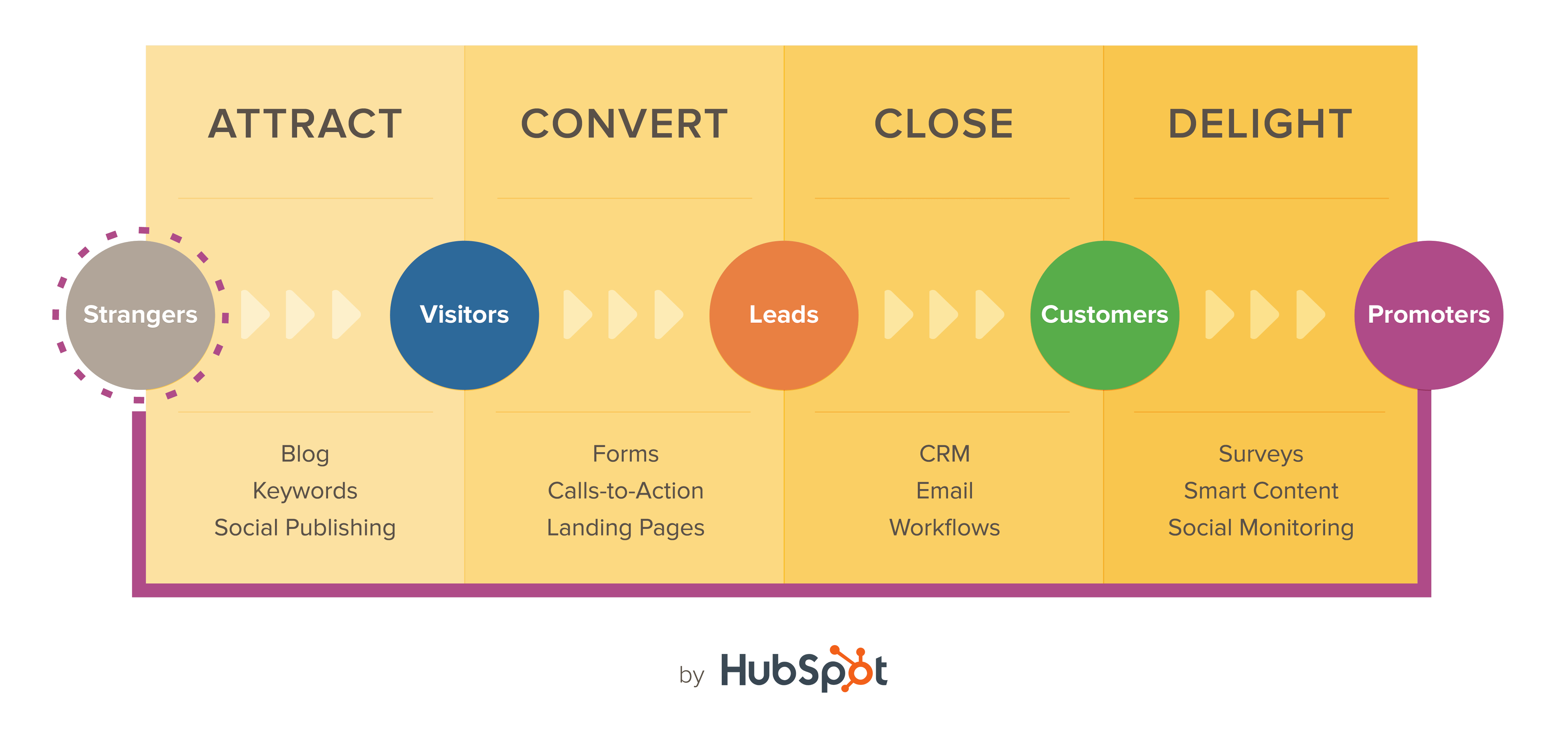 Let's break this process down.
Attract the Prospect
The first step to inbound marketing is to attract the prospect. You must thoroughly come to know your prospect by creating a persona before you start. This doesn't mean making educated guesses -- this means doing research about who needs your services and why. Once you developed a persona, you know who you are marketing to and can design targeted content to attract them.
Convert the Prospect
Conversion is the goal for inbound marketing. Conversion can be offered through several means, but the usual ones are a Call-to-Action (CTA), form, or landing page.
Make the Close
Once you've converted your potential customer, the next step is to close the transaction. Depending on what you are selling, this may be a short- or long-term process. For instance, if you're selling a home or a telephone system, there are more details to be worked out and questions answered before you can close.
Delight the Customer
After closing, your inbound marketing process turns into regularly delighting the customer. You want to keep the business going with this customer as long as possible. Therefore, making sure that they are thrilled with your business will help you implement the next conversion.
Inbound marketing has been proven to work; however, each company still needs to configure its marketing to fit their particular demographic. It takes metrics and testing to find the perfect fit. Once you adopt an inbound marketing process and attitude, you may find that your customers are far more delighted to see you than YouTube ads -- and by all accounts, being more popular than interruptive ads is most definitely a win.