Every small business website needs several components to be successful in not only Google's eyes but also to your ideal audience. The end goal is to attract and engage potential prospects and provide enough resources and information that lead to them feeling comfortable and excited about buying from your business.
What are the elements every successful business website should have? Some might seem obvious while others might not be so familiar.
Content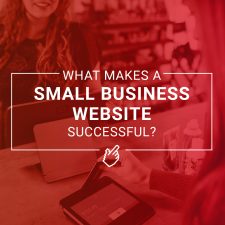 Content for a website is one of the most important drivers to improving your relevant search with Google. Also, and more importantly, it's important to attracting and engaging with potential customers. In Studio PFG, we rely heavily on you to help provide us with information about your business. Part of what keeps our costs low is to lean on you as a subject matter expert and to help tell your story like no one else can.
During our process, we recommend planning and writing your content ahead of time. This helps our creative team move quickly and provides you with your website on time. If you need help with your content, don't fret, we offer copywriting and content writing help for an additional add-on cost.
SEO
Search Engine Optimization is one of the most asked about services we can provide. The hard part about SEO is that it encompasses many different facets. In Studio PFG, we offer an On-Site SEO add-on, as well as a local SEO service. Without getting too detailed, here is a little bit more about how they work, and how we implement them into a website.
Our On-Site SEO service is available for Studio PFG websites at a price point of $750. If you choose to include this on your website, our team starts with digging into some information about your business and ideal customer profile. From that point, our SEO and Content Specialist will work to develop a keyword research report with this information. Once the report is finished, we will have a detailed explanation of recommended keywords for use on your website, as well as meta description optimization.
For our Local SEO add-on, we typically only recommend this service for businesses with a physical location. We partner with a company called Yext to help manage your business listings across different business directories. This helps generate consistent information and tells Google that your information is correct and shared on multiple sites.
The last recommendation our team brings is to help utilize a blog for your new website. That's why Studio PFG offers a blog section. A consistent and helpful blog can be one of the most effective SEO tools, but in addition, helps educate potential clients on your services. You can write the blogs yourself, or if you need help in this area, we can discuss an inbound marketing monthly engagement to help you generate content on a strategic and consistent basis.
UX/UI Design
Another valuable portion of a successful website is its user experience and user interface design. Essentially, prospects and people in general will not use or stay on a website that is disorganized or unpleasant to their eyes.
Our approach in Studio PFG is to have one of our two designers help lay out a website that is aesthetically pleasing to a potential website visitor, as well as a site architecture that follows best practices and common sense for your business. Our two designers, Alyssa and Sarah, are extremely knowledgeable and have an extensive number of successful and beautiful websites under their belt.
Reliable CMS/Backend
Tired of an existing website crashing or getting wonky? Worry less with Studio PFG. Part of our sales process explains that we require Studio PFG websites to remain hosted by ProFromGo. However, this isn't to strong arm you. It is because our platform and CMS were constructed with a certain hosting environment in mind.
Our hosting and maintenance fees for a typical Studio PFG project start at $50 per month. This includes the hosting of the site, all of the CMS and backend maintenance, as well as an SSL certificate. With our hosting plan, you have access to our help desk for any technical issues that may arise.
Basically we remove a lot of the techy hurdles and get you back to worrying about your business!
How Studio PFG Provides Everything Your Business Website Needs
ProFromGo has developed an effective and easy-to-use platform for small business or template-based websites. We put together this program to help satisfy the needs for a professional and well designed website that fits within different budget ranges. The goal of this platform is to provide you with a great initial design for your website and train you to champion your own content. This allows you to add and make changes to your website without additional billing and the need of a developer.
If you want to learn more about the platform or the process, please check out the link below or feel free to reach out for a demo of the platform. We would love to help you out with your new website project!