Now that 2015 is coming to a close, what are the trends that we can look for in content marketing for 2016? There have been a lot of changes in 2015, the most prevalent change being optimizing for mobile. Many companies have still not updated their websites for mobile optimization and this trend will still be a priority in 2016. To help you get your own content strategy up and running as soon as the New Year gets underway, let's examine some of the trends for 2016.
1. Big Focus on Mobile Optimization
Okay, as mentioned above, this trend is not new. However, more companies will be focusing their attention on sweeping optimization for mobile devices. No longer just a B2C concept, B2B companies will be adding apps, making updates to their websites and changing landing pages to attract mobile customers. Other changes for mobile include local marketing including facilitating mobile use through in-store mobile coupons, and broadcasting specials to customers who are in the local vicinity. If your company has not looked at how it is connecting with mobile customers, 2016 is the year you should get started.
2. Proving Marketing ROI with Metrics
One of the difficulties gaining approval for marketing campaigns is the lack of hard data to back up your plan. However, with inbound marketing, you can track every step your prospect takes and get a real picture of the effectiveness of your campaigns. Using the metrics that you gather from your content strategy, you can find the holes that need to filled, tweak strategies to make them more effective and please your executive team by proving to them how much money your team is contributing to the company's bottom line.
3. Video Takes a Step Up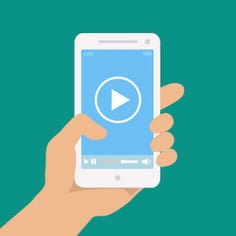 Video has already proven to be effective, entertaining and popular with mobile customers. As mobile usage broadens, videos will become more important to all parties in the marketing spectrum. Videos allow small companies to tell their story in a way that people can enjoy and understand. And many companies will use video to tug at the heartstrings of their customers. A perfect example is the range of commercials that Amazon is using to promote their Prime membership.
Companies that take the time to create a marketing concept as good as the one Amazon has in this example, will be able to reap the rewards of viral awareness. Videos are easy to view and share on mobile phones as well as larger devices and help get people involved in the story behind a company.
4. Automated Content Management and Lead Response Management
In some ways, we are going back to the days of the door-to-door salesman, when each salesman would build a relationship with one customer at a time. However, the institution of automation software to help manage the leads we get from inbound marketing can help streamline the process and prioritize our leads. If used correctly, these types of software can make your sales and marketing teams more effective, and improve your profit margin.
5. Changes in How People Search
We all know about the big "G" and its influence on search. But, Google isn't the only game in town, because other types of search engines are being used that you may not be actively aware of. YouTube and Pinterest are two good examples of sites that are used for search engines. As people learn to search using media instead of text, these search engines will gain in importance.