Wish you could take control of your website without having advanced technical knowledge? You can, with Studio V. This is an affordable way to build a professional website backed by personal, individualized support from Vendilli Digital Group. This website builder lets you choose from different levels of Studio V support to fit your needs. For a totally stress-free process, let our professional designers design the entire site and pass it on to you. If you prefer a more hands-on approach, we can get your website started and then pass it off to you to finish. Or, you have the option to take the reins from start to finish.
Studio V offers more than your everyday website builder. Let's find out how and why.
Easy to Learn, Powerful to Use
Studio V is a drag-and-drop, click-and-edit system that can be tailored to your vision -- no coding or experience required! Anyone can pick up the system and learn how to use it. If you know exactly what you want and you have coding experience, SV offers options to customize your site with HTML and CSS.
Experience and utilize the widest variety of widgets and functions available to you and design with confidence in a user-friendly, easy-to-navigate system.
What Makes SPFG Better Than Other Website Builders?
I can say from personal experience that Studio V is user-friendly and powerful. I cannot say that for the other website builders that I've used in the past. (This is coming from someone who is still learning more about SV every day!) After only using Studio V for a few months, you can rest assured that I am not making a biased push for a run-of-the-mill product. It works.
SV offers a considerable range of usable widgets to add style and function to your site. Widgets include things like text boxes, image galleries, icons, charts, maps, and more. Custom widgets can even be developed and added to your builder to perfectly fit your needs.
The builder is easy to manage and makes sense. When editing your site, you will find that each widget, while having a different function, is edited in a very similar way, which keeps it simple and intuitive. The widget editing windows offer tons of customization options from specific colors, fonts, borders, and links, to spacing and placement on a page.
My personal favorites and some of the most powerful design tools in SV are the flexibility of the drag and drop feature and the margin and padding editor. SV gives you free reign over the positioning of your website elements. Other builders often lock your blocks and widgets into a determined template; without much control over custom positioning. In SV, even though everything is organized in columns and rows, there's so much design freedom. You can create columns within columns and rows within rows, giving you the power to create a more unique layout than you can get in other drag-and-drop builders.
Now you may think that is great to hear, but it doesn't stop there. Remember the margin and padding editor I mentioned before? Even inside of all your custom rows and columns, you can take it one step further and place your widget exactly where you want it by editing its spacing with margins and padding. With this tool, you can perfectly align your website's content visually. This creates a much more refined website that is sure to impress more than your other builder site where you couldn't quite figure out how to line up one paragraph to another.
Let's take a look at an example. I'll throw my family's business under the bus just a bit here. A few years ago, before having the pleasure of working with ProFromGo, I built our website in another popular website builder. The site has since changed, but one thing hasn't, the inability to create a truly refined layout. The biggest thing I had trouble with was deviating from the set template and placing content where I wanted it to go. Although this builder always touts customization and professional design, it's not a platform that truly gives you control. Other website builders can give you a beautiful website for sure, but there's nothing stopping anyone else from having the same exact design. Going beyond set templates in other builders is much more difficult and less intuitive. With Studio V, you can start with a highly customizable template, or start from scratch.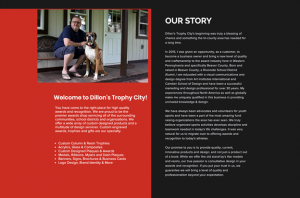 In the example above, you can see a few small problems. Spacing around the image is inconsistent and the left column's text alignment is off-center. Watch this video and we'll recreate the exact same section in Studio PFG and see what we can do to fix that.
With a quick Studio V recreation, I was able to get pixel perfect alignment all the way around the image and between columns and have full control of the size and position of text boxes, in a matter of minutes. The ability to freely drag blocks around in their containers, perfectly adjust the height and width of widgets, and control margins and paddings helps you create a polished website that can truly be customized to your liking.
Don't take it from me, sign up for a free test drive or schedule a demo with us today! Find out for yourself if the power of Studio V is right for you!