Whether you're building a new website from scratch or modifying your existing one, you probably plan to work with a developer. After all, the average business owner or marketer doesn't have the skills to build a site from the ground up.
But if you're building your website on HubSpot, there's one key point you must consider for success: do you have a HUBSPOT developer on your side?
HubSpot is one of the most powerful, customizable platforms out there. This means you can do some incredible things with it, but it also requires a lot of knowledge and expertise… the kind that can take months or even years to learn. A HubSpot developer will have that specialized knowledge.
What is a HubSpot developer?
When you're looking to hire a developer for your new HubSpot website, how do you know if a candidate has the right qualifications?
Basically, a HubSpot developer is someone who has been trained on how to use HubSpot's unique CMS. They should be familiar with using custom APIs to build apps, integrations, or websites.
HubSpot developers will also likely have certifications or courses to show their expertise, such as HubSpot CMS for Developers and Growth-Driven Design.
When you work with a HubSpot developer, you'll unlock way more exciting features and be able to create a much more effective website than if you work with a generic web developer. Here are just a few reasons why:
1. More customization to move past basic templates
One of the many great things about HubSpot's web platform is that it was created for anyone to use, no development knowledge required. With pre-built modules, templates, and themes, you can use the drag-and-drop designer to build a website without a single line of code.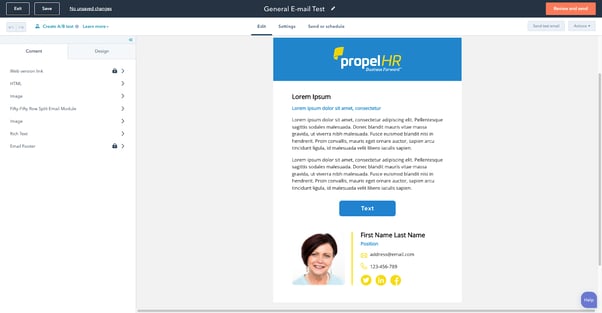 HOWEVER, if you want to make your site stand out and move beyond the basics, working with a HubSpot developer is essential. You can only get so far with the pre-existing pieces, and you might find your website is missing some key functionality or the originality that makes your customers love you.
When you work with a HubSpot developer, nothing is out of reach. Our team of experts have 7+ years of experience creating dozens of websites right on the HubSpot platform. Whether you need a custom page, a back-end integration, or something else entirely, we'll figure out what's required and get the job done.
2. Leverage CRM data
HubSpot isn't just a web-design platform. It's also one of the most all-inclusive CRMs, designed to be a one-stop shop for all the information on your customers and your business.
A HubSpot developer will be able to incorporate all of this powerful data into the pages they develop, creating a more customized, appealing website.
For example, HubSpot offers smart content modules that modify a page based on the user's location, buying history, or previous interactions with your website. While a standard website developer might only create one home page, a HubSpot developer can build one that will have customized messaging and functionality for different types of customers. The result? A look and feel that always resonates and gets results.
3. Superpower pages with apps and integrations
HubSpot has one of the widest ranges of third-party apps and integrations on the market. If your business uses another tool, chances are a HubSpot developer will be able to connect it with your HubSpot account.
The right developer will be aware of any relevant apps that could superpower your pages, templates, or emails. By sharing data across platforms, you'll never miss another insight or waste time on redundant actions.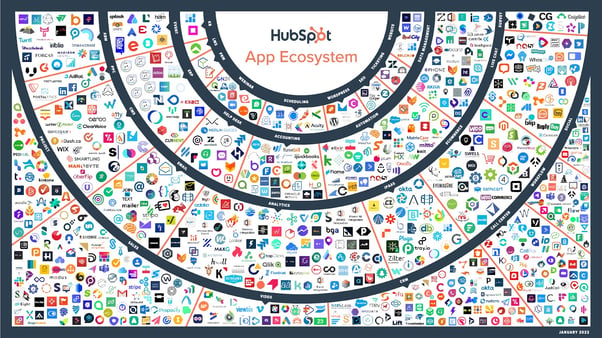 4. Power more conversions with backend functionality
HubSpot is a large and overwhelming platform. Not only does it use its own development language, HubL, it's also chock full of features and functionality that you might not even be aware of if you haven't spent hours learning and understanding the system.
To draw potential buyers along the sales funnel, you need to leverage CTA's, forms, and other conversion tools along with back-end nurturing that encourages interactions with your brand.
A HubSpot developer will know exactly what functionality you need to tie into the backend of your website and achieve success. Whether it's a simple internal notification or a complex workflow that involves several automated customer interactions HubSpot developers will help you and your team get more out of your website.
Depending on the products or services you sell, you might need to present information in different ways. For example, a HubSpot developer will know how to use a HubDB table to create dynamic listings, like in this real estate example.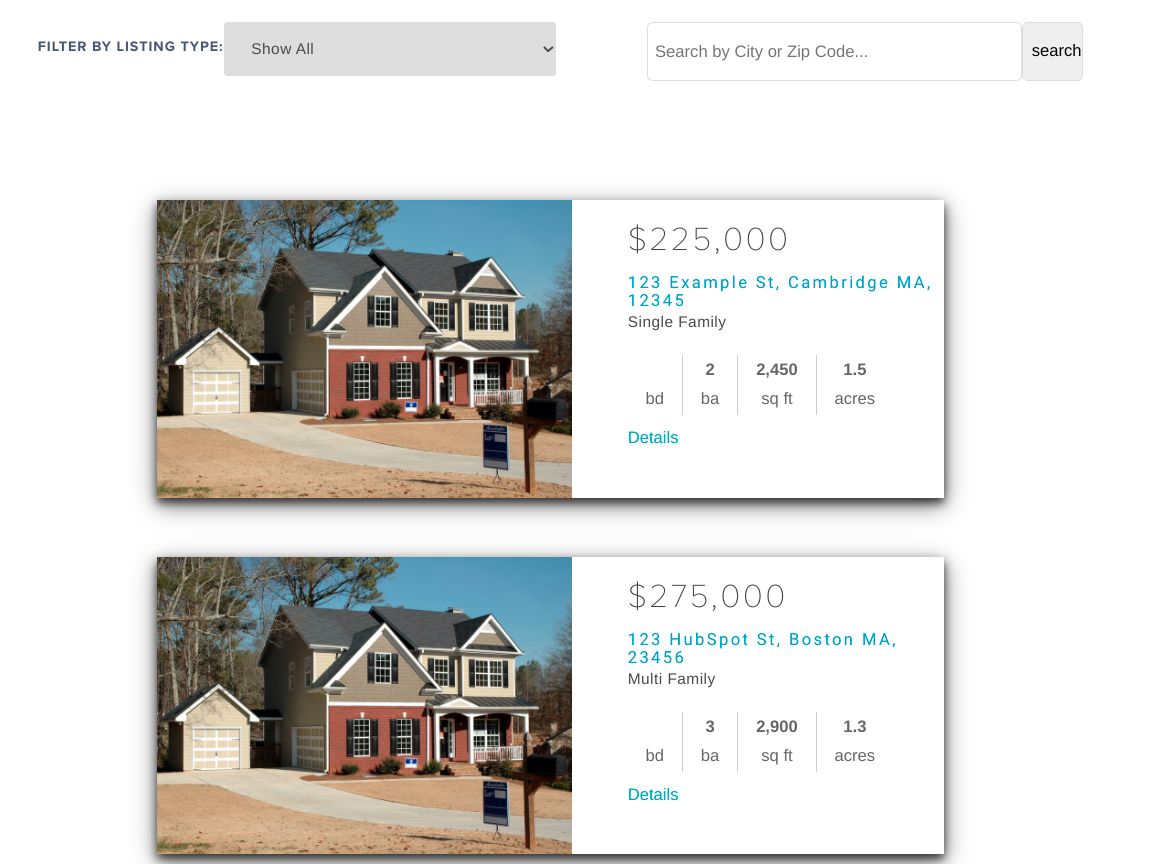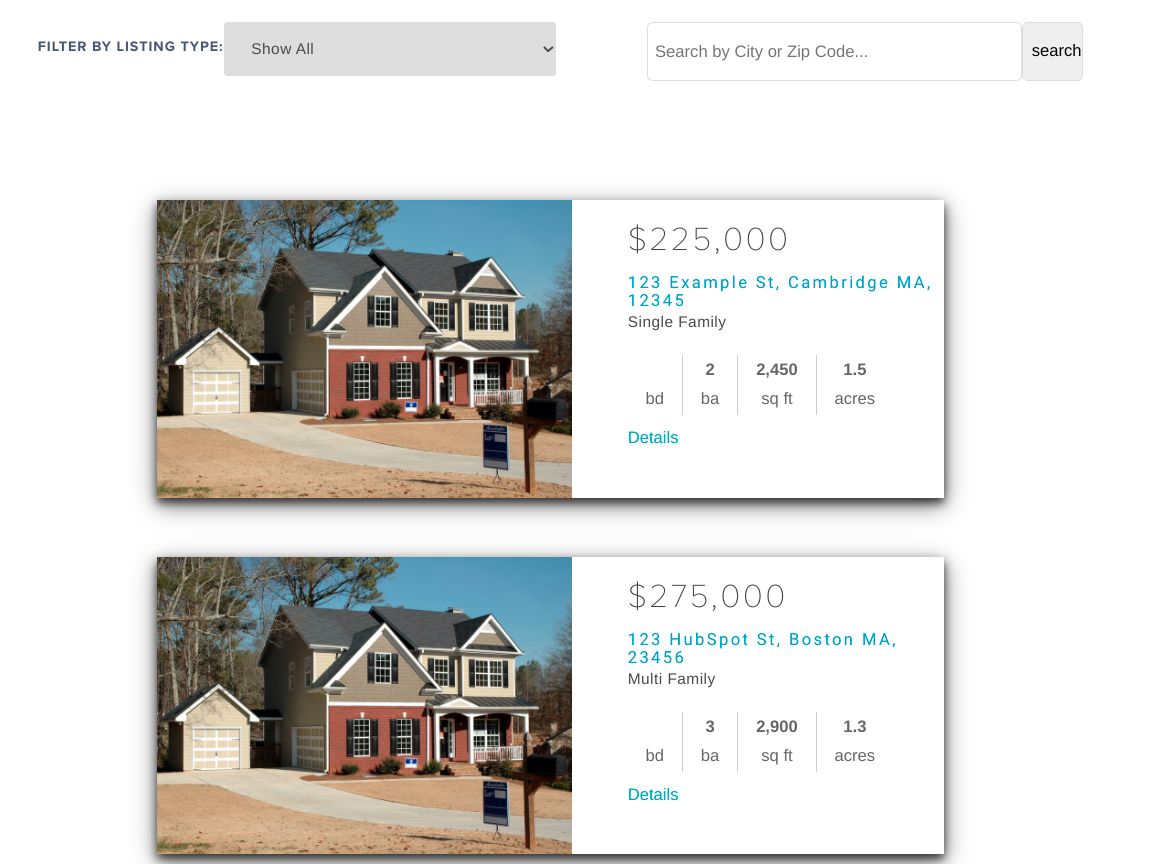 5. Present the right message to your audience
Developing a good HubSpot website goes far beyond clever design. While aesthetics and site design are undoubtedly important for brand recognition and visual appeal, good design alone is an empty experience for the user if it doesn't leverage critical elements for customer accessibility and personalization.
A HubSpot developer will know how to use every element in tandem to appeal to the customer and create a favorable experience. They'll also be able to dive into the backend of your HubSpot analytics to understand how your customers are responding to your site.
A good developer knows it's not just what you say, it's how you say it. Even the most valuable message will be ignored if it's not presented in a clear, easy-to-read way. Page structure, spacing, imagery, and font types and size are all key elements a HubSpot developer will consider and tweak during the design process.
6. Constantly learn and improve
Your business and your audience are changing day by day: you release new products and services, learn about a new competitor, or discover a whole new subsegment of buyers. In the face of all this, why would you keep your website stagnant?
If you build an ongoing relationship with an inbound HubSpot developer, you have the ability to continuously optimize and update your website to achieve the best possible results. Are users frequently bouncing from a particular page? What difference would something as simple as changing the color of a CTA button make? A developer will work with you to test it out, analyze the data, and make changes that bring in more leads.
Do you need a HubSpot developer on your team?
If you're anything like the average business owner, you simply don't have the time to do a deep dive and learn everything there is to know about HubSpot. But that doesn't mean your business doesn't deserve an incredible HubSpot website!
Hire a HubSpot developer for your web project team and watch your site begin to capture leads and ultimately drive your profits.