FOR IMMEDIATE RELEASE
Pittsburgh web design firm ProFromGo announced that it has expanded its services and community engagement by moving to new offices on the south side of Pittsburgh. The move comes after a third quarter of significant growth for the company.
PITTSBURGH, Pennsylvania May 10, 2012
[frame_left]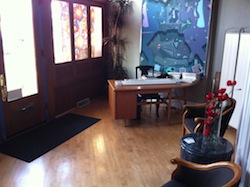 [/frame_left]ProFromGo Web Design & Internet Marketing opened new offices on the south side of Pittsburgh this week, marking its commitment to local businesses in an industry that typically ignores regional and community markets. The new offices are the evolution of a Pittsburgh business nearly 15 years in the making,
Chris Vendilli, founder and Chief of Operations for the firm, stated during a recent interview that his vision for the company began while he was still attending a Pittsburgh area high school;
"I was just a young kid fascinated with the internet in those days; back before search engines had even been born. I thought marketing was a dirty word but I was obsessed with the vast potential for communications via the web. It wasn't until some years later that I realized marketing IS communication, and that's when ProFromGo was really born."
[frame_right]
[/frame_right]Vendilli took this passion to the streets and eventually developed national and international business as a result, but the company has primarily always served local Pittsburgh people. Vendilli, a decorated former wartime member of the U.S. Air Force, has become well known for his business acumen among high profile Pennsylvania companies.
Also a prolific writer in the fields of search engine optimization and web design, Vendilli stated that he hopes the new offices will help more local businesses take command of their web presence - a move that will ultimately bring increased exposure and revenue for the city and state overall.
"The internet is a complicated world rich with opportunities for local businesses." The full-time web designer and soon-to-be-father said. "What we do isn't only designed to help people capitalize on those opportunities, but also to help create a better experience at ground level and on the net. That means we want to be where you are now and where you want to go; so we're here on the ground right in the heart of Pittsburgh's trendy South Side, and we're on the internet creating success for our clients, friends and neighbors every day."
The internet marketing company's new offices are located at 2338 East Carson Street #1 in Pittsburgh.
ProFromGo is a Pittsburgh-based Web Design and Internet Marketing firm specializing in white-hat search engine optimization and revolutionary web design strategies. To learn more about the firm's services and hours of operation, please visit the company website at https://profromgo.com or call 1-412-530-5027
###