Like just about everything else in 2020, HubSpot's annual INBOUND event looked a little different this year.
What would typically be a week-long in-person conference was transformed into a two-day virtual experience for marketing aficionados and business professionals around the world. With a fresh format and an all-star speaker line-up, INBOUND 2020 hit it out of the park. We can't wait to test drive the new product updates unveiled at INBOUND, but for now, we're soaking up all the latest innovations in marketing.
From insightful spotlights to Q+A's to thought-provoking debates, there was no shortage of activities for inbound enthusiasts like us (Seriously. We're still working our way through the on-demand sessions!).
It would probably take us until INBOUND 2021 to recap the entire content catalogue, so here are a few key learnings and the steps you can take to turn this knowledge into action.
Table of Contents
Empathy is essential to effective marketing
As the world takes a turn toward digital, HubSpot has made an effort to double-down on the need for a people-first approach to sales and marketing.
Search marketing expert Dale Bertrand presented a powerful argument for a human-centred SEO strategy. While SEO recommendations of the past involved technical over-optimization, Google's AI-based algorithm demands a more human approach. Instead of trying to outsmart web crawlers, Bertrand suggests starting with empathy to understand your audience, the keywords they are actually searching, and the content they're interacting with.
The theme carried over into another session by AdRoll's Julie Zhou advised treating everyone like a customer to allow buyers to convert when they're ready to. By seeking authentic relationships from the first touchpoint, sales and marketing teams can cut down on time-consuming top-of-funnel tasks and nurture valuable connections from the get-go. In the Inbound Flywheel, customers are at the centre of all business processes and it's important that your strategy reflects that.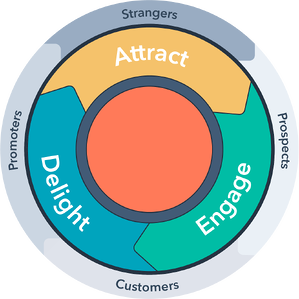 Next Step:
Build out your buyer personas to get a feel for your ideal customers, the lifestyles, preferences, and pain points. You can use CRM data, social media analytics, and your best judgement to gather this information.
UX is more than a buzzword
As the sum of every customer's interaction with your brand, it's hard to overstate the importance of user experience. HubSpot is revered for their commitment to user experience, which they proved once again with their most recent product developments.
Your website plays an integral role in shaping your user experience, but you can't hinge your UX strategy on beautiful website design alone. HubSpot's own Lukas Pleva insists a great website requires both quality content and functional (and mobile-friendly) design. Great user experience is one that doesn't make them jump through hoops, but rather blends seamlessly into their user behaviours.
The same concept surfaced in INBOUND Debates: Gated V. Ungated Content, as HubSpot Marketing Manager AJ Beltis explained how conversion rates soared when information-rich pillar pages were complimented with gated downloads that put newly-learned knowledge to use. This UX model gives customers a natural next step, which allowed HubSpot to empower the customer to move along the buyer's journey.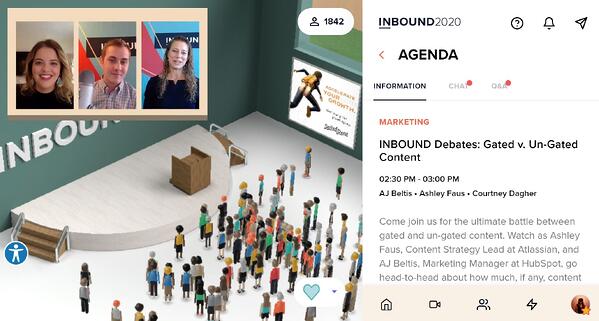 Next Step:
Forms are essential to an effortless user experience (and driving conversions). Ensure a good form UX by eliminating unnecessary fields, enabling autofill, and including a clear action button.
use science TO Back up your content strategy
As marketers, it's our job to create content that cuts through the noise and catches the customer's eye. Nancy Harhut's presentation, 10 Scientific Secrets That Make Your Content Impossible to Ignore, taught us how to leverage cognitive biases to get more eyeballs on your content.
Marketers can appeal to human nature by triggering memories, showing human faces, and using social proof to build trust with an audience. Fun fact: People are more inclined to avoid pain than they are to achieve success. Marketers that aim to understand the pain points and call upon universal emotional triggers will generate content that really resonates.
Next Step:
Take advantage of FOMO with call-to-actions and email subject lines that create urgency like "don't miss this deal", "join our exclusive program", or "ends tomorrow". Your customers won't be able to resist clicking.
Outbound tactics have their place in inbound marketing
It's no secret that we adhere to the inbound philosophy (it's the methodology that HubSpot was founded upon), but the INBOUND Debates: Inbound V. Outbound triggered an aha moment for us. The discussion revealed that, despite seemingly conflicting principles, it is possible to get the best of both worlds.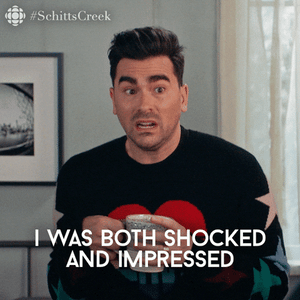 Don't get me wrong, it's hard to deny that bad outbound marketing is disruptive, annoying, and downright ineffective. But at its best it's a highly-targeted, measurable means of helping good-fit customers to overcome challenges they may not even be aware of yet. While we're not quite outbound converts just yet, we're excited the possibilities of combining both approaches in an account-based marketing plan.
Next Step:
Start building out your account-based marketing plan by defining goals and outlining your strategy. By establishing criteria for your target accounts, you can determine the best way to reach your ideal customers (email? social media? virtual conferences?) and develop a cold outreach campaign from there.
Experiment with email
While it may be considered old fashioned in the age of social media, email marketing has seen a major resurgence. With 78% of marketers experiencing an increase in email engagement over the last 12 months, there's no reason not to be taking full advantage of the channel.
Jay Schwedelson's session was brimming with clever tips to help emails stand out among inbox clutter. This presentation encouraged marketers experiment with email strategy to evolve with the ever-changing needs and expectations of audiences. Here are a few tactics we've been implementing in our emails over the last few weeks:
Linking company logos to an offer page, not a home page, to support the email's call to action
Using gifs, animation, and emoji's to add visual interest and improve click-through rates
Testing email subject line length and word choice with subjectline.com
Next Step:
Get familiar with HubSpot's A/B testing tool and use it to determine the subject lines, content, and CTA's that appeal most to your audience. You can use Jay's recommendations or do your own research, but remember to never stop experimenting and adapting.
Bonus Takeaway: The future belongs to those to adapt
One of the most poignant quotes to come out of INBOUND 2020 came from HubSpot co-founder, Brian Halligan when he explained"
"There are companies that are leaning into the changes that are happening now, leaning into online marketing, inside selling and there are companies that are trying to get back to 2019. I think the future, 2022, looks a lot more like it does today than it did in 2019."
The bottom line: the companies that embrace change as an opportunity for innovation will not only have a leg up in the new normal, but they'll be the ones paving the way for the future of marketing. We're coming away from INBOUND 2020 a brand new perspective and we can't wait to put these takeaways into action.
Want to grow your business with HubSpot? As a HubSpot Platinum Agency, we're armed with the most up-to-date inbound marketing techniques and ready to maximize your investment today.