Throughout the past six weeks, businesses and organizations have had to dramatically adapt to the "New Normal." As well all continue to practice social distancing and limit our time in the outside world, one thing has become abundantly clear. Your organization's online presence is more important than ever. Many of ProFromGo's clients are certainly feeling the pressure of COVID-19, but have retooled their online marketing strategies and even their overall business models to accommodate and serve their customers.
The ProFromGo team just wanted to take a minute to tip our hats to some of our clients and celebrate the hard work they're doing. Here's how some businesses in various industries are handling COVID-19
Pizza Parma
A mainstay of the Pittsburgh pizza scene, Pizza Parma has remained open throughout the pandemic to deliver customers in the Downtown and Shadyside areas tasty pizza and other favorites. Pizza Parma rolled out contact-free delivery just as social distancing went into effect. Through online ordering and special delivery instructions, their valued customers and employees can keep things as close to normal without any unwanted exposure.
CTR Payroll Services
CTR Payroll Services is a third-generation, family-owned business that helps its customers with everything from payroll to taxes to human capital management. As you might expect, things have gotten a bit hectic for this sector over the past few months. CTR managed to rapidly move their operations to working completely remotely and have gone above and beyond to field their customers' questions and ensure they understand the daily avalanche of new legislation and policies.
If you've got questions or concerns regarding your own business, make sure to visit the CTR COVID-19 Information Center. You'll find a wealth of information to help you continue to make sense out of all of this.
Airline Hydraulics
With operations across the East Coast, Airline Hydraulics distributes hydraulic, pneumatic and automation products. However, the business is currently leveraging its partnership with Bosch Rexroth to join the fight against COVID-19.
Seeing that hospitals are quickly having to react to establish containment and testing protocols, Airline Hydraulics decided to put their inventory and expertise to use by helping hospitals convert spaces into COVID-19 surge facilities. Airline is offering on-site consultation and sketches of basic designs, 3D CAD drawings with quotes and installation support. Airline is also offering testing booths to help healthcare workers and patients improve safety during the testing process. Their testing booths feature Personal Protection Equipment, optional lights, HEPA filters and the ability to be positively or negatively pressurized.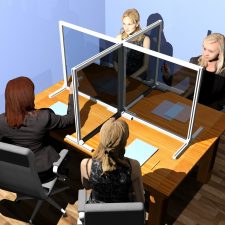 Does your company need social distance barriers for office or retail? Shoot us a message and we can facilitate an intro to our friends at Airline Hydraulics, or by all means, reach out directly to them.
Bella Sera
A staple of the Cannonsburg community, Bella Sera is used to hosting weddings and galas and even offers group tours to Italy. Bella Sera needed to drastically change its services to keep up with COVID-19. One way they're staying afloat is by offering the same quality catering, but for pick-up. Looking ahead to Mother's Day, Bella Sera is offering a special menu so we can all show our moms some love—regardless of the circumstances.
Terry's Plumbing
Terry's Plumbing, or "Super Terry" have been a ProFromGo client from the beginning. Providing the North Hills area with regular plumbing services, emergency response and much more, the hard workers at Terry's are doing their part to make sure your home or business runs smoothly. Thinking about tackling a few bathroom or kitchen projects while cooped up at home? The Terry's Plumbing blog is chock full of helpful tips.
Framesi
A beloved brand since 1945, Framesi specializes in helping its customers support beauty daily through quality haircare and other cosmetic products. Traditionally, Framesi has relied on a wholesale model, but social distancing measures have challenged them to rethink how they bring their products to end-customers at home.
In addition to their normal methods, Framesi plans to allow stylists to sell their products directly to their clientele (even getting a commission on them). So, we may all be in need of a haircut, but at least we can still access the products we've come to love!
ProFromGo
Oh, how are we doing? Thanks for asking! The PFG team has gone full remote like many other organizations, but we haven't skipped a beat. We continue to deliver the same level of service and success for all of our clients and are honored to help them navigate these strange, strange times.
From website build and redesigns, content and SEO strategies, to HubSpot sales and marketing software training and customization, we're helping our clients make the most out of this situation. Our primary focus has been supporting existing clients with their projects and communications to their audiences during these challenging times.
How is Your Business Handling COVID-19?
We're so thankful for our dedicated clients and applaud their creativity and tenacity as we all continue to deal with the pandemic. We understand every business from every industry has been affected by COVID-19 in one way or another, and your company's online presence has never been more important. Now is a perfect time to assess or reassess your digital marketing strategies and initiatives. Additionally, we've seen an uptick in requests for training and support in the areas of HubSpot CRM training and implementation. If you have sales reps who need help staying productive while chained to the keyboard, we have just the thing for you.
Whether you're thinking it's a great time to overhaul your outdated website or finally want to give your CRM a shot in the arm, we'd be happy to help you get there. Contact ProFromGo today to learn how ProFromGo can help you handle COVID-19 like a champ.