Building a social media dashboard is simple.
The hard part is deciding what should be in your social media dashboard.
In my experience, most dashboards are too cluttered and try to track too many things, making it difficult to pull actionable insights.
Nearly 75% of marketers are tracking between 3-5 primary metrics in their social media dashboard. But how do you decide what metrics warrant a permanent place in your dashboard?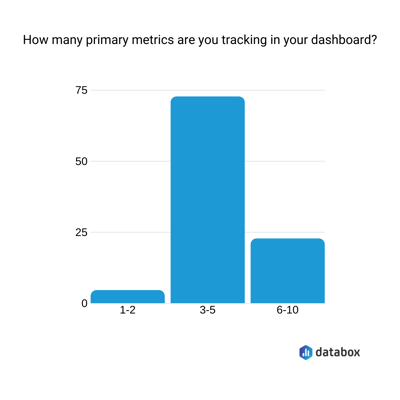 To get clear on what to track, you have to get clear on your business's goals. From there you can look at how your social media strategy supports these goals.
Does your social content increase brand awareness? Does it bring traffic to your website? Maybe it helps to build a loyal community around your brand?
With a high-level strategic framework in place - you're off to the races. Now it's time to prioritize Key Performance Indicators (KPIs) that you'll use to monitor your results. Your KPIs will indicate exactly where action can be taken, so you can continuously improve your social media strategy.
In this post, we'll take you through the process we use to identify the most important KPIs, so you can start measuring the metrics that actually matter to your business.
Get clear on your goals
Tracking relevant data starts with getting clear on your primary objective. This will be the overarching purpose behind your social media marketing and it should consider your target audience's behaviours. For example, if you don't see many leads coming from Instagram, set a goal to drive engagement instead.
Joe Martin of CloudApp says, "Some people are all in on engagements, and others want leads and revenue. Once you dial in what you care about on social, then you can start developing your dashboard."
Pro Tip: Stick to the SMART goal framework to ensure you hit those milestones
Tie the metrics you measure directly to your objective
It's easy to fall into the trap of tracking metrics that don't tie back to your primary objective.
"In social media, there are two kinds of metrics: vanity metrics and non-vanity metrics," says Jasz Joseph of SyncShow. "Vanity metrics are important to brands who want brand awareness and to build a following. If these are the goals, include metrics like followers, likes, comments, and shares. However, if your goal is lead generation or sales, the dashboard should focus on metrics like website traffic from social and conversions from social."
As exciting as it is to see your Likes add up, these surface-level metrics don't contribute to your bottom line.
So how do you pinpoint the metrics that directly relate to your objectives? Andrew Ruditser of Maxburst says, "If you are looking to reach a bigger audience on your Instagram account, then you will want to track the engagement on your latest post. How many shares did it get? What was its reach? This will help you see if the content you are posting is helping you achieve the goal you want. It is important that your dashboard includes these items to help achieve your business's goals."
The metrics you choose should also be traceable.
"Metrics present on your dashboard should be traceable to their cause," says Joe Flanagan of Tacuna Systems. "For example, data shows that CTR has increased, following an increase in our content marketing. This way, positive action can be repeated, and negative action stopped."
Pro Tip: Check out this post to get tips on how to display metrics within your social media dashboard.
Examples of social media metrics
Reach
Shares
Follower growth
Conversions
Visits from social media
Bounce rate (from visits from social media)
Mentions
Set a realistic benchmark
With your goals in place, it is essential to set realistic benchmarks along with a plan on how you are going to achieve it. Ask yourself "At what point will I consider this objective achieved?"
For example, if you currently have 550 Instagram followers, setting a goal to grow your following organically to 10,000 followers in a month is next to impossible.
This can end up demoralizing your team when they get nowhere close to this goal.

Instead, a more attainable image of success might be to increase your following on Instagram by 10% in a month.
Setting realistic milestones not only maintains forward momentum, but having a proven success rate to back up your social media strategy will give you the confidence to get more ambitious with your goals.

Once you take the time to think through your goals, you'd be surprised how much easier it is to build out your social media dashboard. By getting specific about what you want out of your social media presence, you'll know exactly what metrics to analyze when it comes to decision-making and opportunities for optimization. With all of your primary metrics displayed front and center, it will be easy for anyone in your company to get an inside look at your social media performance.