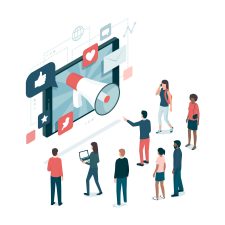 Working with a great inbound or content marketing agency can have transformative effects on your business. I've seen firsthand the positive changes it can make for a salesperson by increasing the number of qualified and ready-to-buy leads. What organization wouldn't want more of those? The following post will highlight the reasons why the shift of inbound marketing has occurred and how utilizing an agency with an inbound-first methodology can be highly successful for your organization. It starts and ends with Growth-Driven Design.
The Buying Process Shift
The buying process for considered purchases has shifted hard in the past 8-10 years. For years, the traditional business model was to hire smart and charming people to go out and bang the company's drum within earshot of as many prospects as possible. I have to say, in today's digitally-driven world, that strategy no longer holds much potency. In fact, it often has the reverse effect.
I used to make numerous sales calls per day and wonder why fewer and fewer people were even willing to answer the phone. Turns out the reason was that the way we all buy things has drastically changed. We prefer to collect more information before talking to a salesperson than ever before. So much so that it has created its own industry. For example; Carfax, AngiesList, Yelp, etc. All of these sites focus on helping other consumers make a thought-out, well informed decision about their next purchase. Does your site do the same for your own product or service?
If your company is not consistently developing relevant and valuable content for your potential customers, it will make you harder to find online. When and if someone does find you, you will lack the necessary trust needed for them to inquire about sales.
What is an Inbound Marketing Strategy?
So, how do you compete and take advantage of this change? The best answer is to start immediately. Companies have for the last 8-10 years widely shifted their efforts to a digital-first approach. The value of having a solid tech stack for your company, as well as a strategic plan on how you will provide helpful and relevant information to your prospects, is paramount.
Without an inbound marketing strategy, you have a smaller chance of seeing the full potential of any digital efforts. In other words, you could make the decision to create the best, most informative content in the world, but if no one knows where to find it, it's all for naught.
The digital ecosystem is all tied together, with your website acting as the hub and host of all of your digital content efforts. Once your website is built, it will serve as the foundation for all other digital marketing efforts. All of these additional channels of communication, whether it's social media, blog content, pay-per click advertising, or even traditional marketing efforts, all point back to the website where you host all of your information and drive visitors to a point where they feel comfortable reaching out to you.
But how do you know if your inbound marketing strategy is working? This is where our agency recommends a platform such as HubSpot. HubSpot is a great marketing and sales automation tool that provides an easy hand-off from sales to marketing. The beautiful thing about HubSpot is that it serves as, well, a hub that allows you to manage all of your digital efforts in one place while also providing a clear picture of the entire journey a prospect may take.
For example, HubSpot can give you the ability to look at your best dollar value opportunities, and see what content those prospects have viewed, and what forms they have filled out to get in touch, or what digital ad that prospect clicked to come to the website. This provides extremely valuable feedback to your marketing team on what is working best, and how to adjust future efforts.
How Growth-Driven Design Works with Inbound Marketing
The Vendilli approach to improving a client's digital marketing efforts is called Growth-Driven Design. GDD is a term we use based on HubSpot's approach to the constant need to improve your website and digital assets. Growth-Driven Design is a month-to-month agreement between your company and our agency. We work hard in the sales process with you to determine what efforts and tactics can make the biggest impact with respect to improving sales opportunities.
Our process to starting a Growth-Driven Design engagement always begins with a Digital Alignment Strategy session. Facilitated by our team, we uncover your company's goals, plans, challenges and timeline for our collaboration with you. From this session, we deliver a report covering the topics discussed in this session, and also start to develop buyer personas for potential clients.
Once we settle on the direction, Vendilli works with your organization to develop a perpetual website and digital marketing checklist. This varies from client to client based on your needs and timelines, but working within our monthly agreed-upon budget, we start to tackle those items in sequential order. Once a baseline for the website has been reached, we work to add valuable content, unpack opportunities for pay-per-click advertising, and multiple other tactics that can improve website and overall digital effectiveness.
We've found an incredible amount of success with this approach for our clients. So if you are looking to improve your website, SEO, SEM, or need help producing quality content, we would love to talk more about how Growth-Driven Design might work best for you.
Vendilli Helps Drive Your Business Forward through Growth-Driven Design
Implementing and sticking to a Growth-Driven Design process is a big undertaking, but one that yields results. Online lead nurturing, not to mention sales, are more important than ever. Take control of your marketing efforts and provide real value to your prospects and customers alike. Contact Vendilli to learn how we can help you drive your business forward