What is GA4?
GA4 is the fourth and newest version of the Google Analytics tracking with major updates in how data is tracked and reported. As technology advances, so do our needs in tracking and analyzing that data. Some key advancements that have brought about the development of the fourth generation of Google Analytics (GA4) are cross-device & smart device usage by users (continuing actions from a phone to a tablet to a computer, for example), and recent updates to the landscape in regards to user privacy.
GA4 reduces the need for cookies to track and attribute user behavior and leverages machine learning to fill in data gaps. Ultimately, this update allows users enhanced privacy while giving businesses and marketers better data.
What is GA4 Good for?
Well, for starters, GA4 is good for giving you better data. As new privacy laws, policies, and protocols are implemented, continuing to track data through old methods, like Google Universal Analytics (the third generation of Google Analytics), will yield less fruitful data.
GA4 also leverages new technologies and machine learning which wasn't available when Universal Analytics was developed. These advancements give you better insights you can leverage to inform your business decisions.
Universal Analytics is good for telling you what has happened, and GA4 is good for telling you what is happening. Universal Analytics data made projections and trends possible, but these projections often required interpretation and human analysis.
Google refers to its smarter insights capabilities as:
"By applying Google's advanced machine learning models, the new Analytics [GA4] can automatically alert you to significant trends in your data - like products seeing rising demand because of new customer needs. It even helps you anticipate future actions your customers may take. For example, it calculates churn probability so you can more efficiently invest in retaining customers at a time when marketing budgets are under pressure."
- Vidhya Srinivasan, Introducing the new Google Analytics
Further, where some real benefit comes into play is leveraging insights to create more advanced audience segments more easily, such as segments of users that have higher value, are more engaged, and are more likely to convert. These audience segments can target and optimize Google Ads campaigns for better performance.
What is Happening with Universal Analytics?
Universal Analytics will be sunsetted, and any current installations will stop receiving data on July 31st, 2023. You will still be able to access historical data, but new data will stop processing.
You might think this gives you some time to transition to the new GA4. However, you should remember that historical data from Universal Analytics will not be imported or available in GA4. Your GA4 account will only begin processing and accumulating data once it has been installed.
You can track data in Universal Analytics and GA4 concurrently, allowing you to maintain historical insights that you wouldn't have if you waited until the last minute. Access to advanced features, insights, and reporting offered by GA4 depends on data accumulated in your account, so the sooner you install GA4, the better.
How to Make the Switch
Google has made the transition to GA4 as easy as possible ('as possible' being the operative term) while maintaining Universal Analytics tracking. If you have a standard Universal Analytics implementation, meaning your Universal Analytics tag was installed as recommended by Google, i.e., the full snippet was installed and served before the closing </head> tag in your website, you may be able to leverage the GA4 Setup Assistant within your Google Analytics account which will leverage your current Analytics tags. You won't have to make any updates to your website.
However, non-standard implementations with modified or misplaced code snippets, or those installed via third-party tools, for instance, may require additional support and modifications to the installation on your website.
If you can't leverage the GA4 Setup Assistant, jump to 'Getting Help with the GA4 Update.'
Using the GA4 Setup Assistant (if available)
To see if the GA4 Setup Assitant will work for you, log into your Google Analytics account, then navigate to the admin settings via the Admin icon (cog/mechanical wheel) located on the lower left-hand side of your browser screen.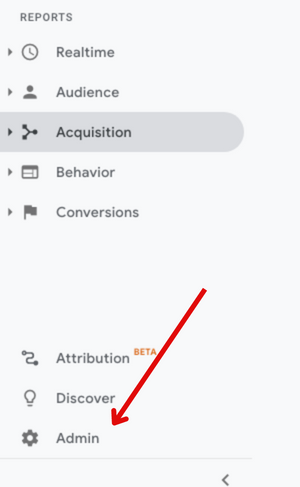 Look to the second/middle column and locate the item 'GA4 Setup Assistant'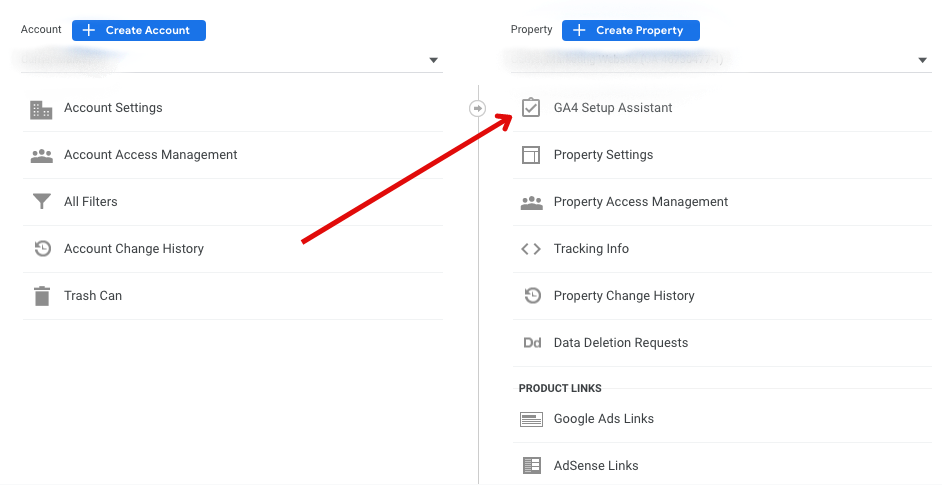 If you are using a standard implementation and can leverage your current installation tags, you'll see a notification that looks like the example below, and you simply need to click select the Optional setup and click 'Create Property.'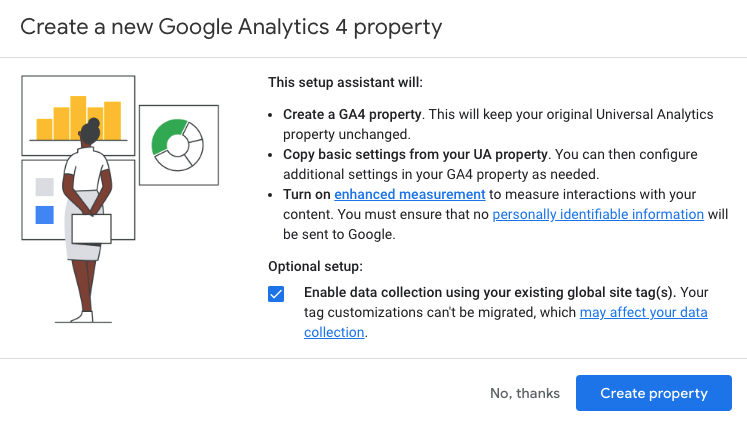 If you are not using a standard implementation that can leverage current tags for the GA4 update, you'll see a notification letting you know that your GA4 will require new tags to be installed. (See below, Getting Help with the GA4 Update)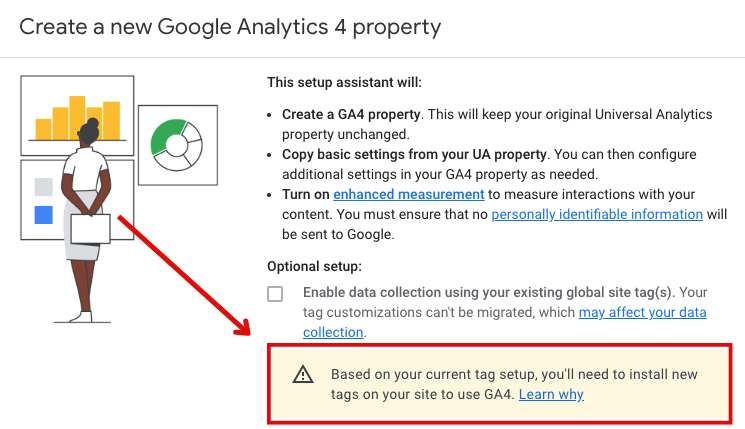 If you successfully installed GA4 using the GA4 Setup Assistant, your next screen will look like the example below.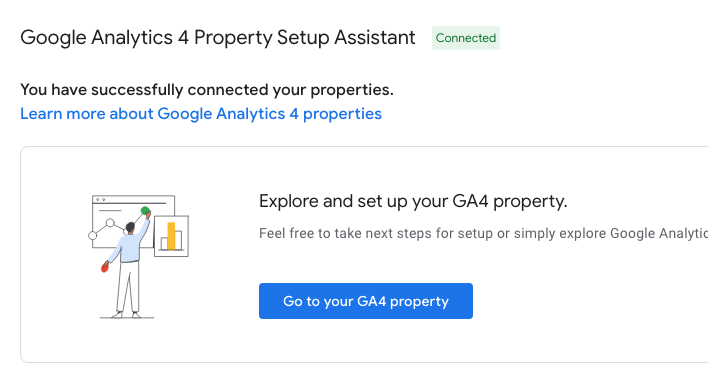 Getting Help with the GA4 Update
We have seen a lot of websites that are not eligible for the simple update via the GA4 Setup Assistant. Each case has presented a different setup type and its own unique solution for the upgrade to GA4. Due to the number of variables involved, unfortunately, we can't provide directions for each possible case. However, we have become experts in making these updates and haven't met a case we couldn't solve.
Please contact us to schedule an initial consultation if you'd like help updating your Google Analytics installation to the new GA4 and/or assistance with using the data found in GA4.
Contact your account manager to request assistance if you're already a Vendilli Digital Group client.