You did the research, managed to get approval, and are all ready to sign up for your brand new HubSpot account. Congratulations! There's just one problem: you didn't realize just how many plans there are available.
You're excited about the possibilities, but as you scroll through the endless list of features and pricing options, your head starts to spin. How are you supposed to know which tier is the right fit for your business?
Considerations before choosing your HubSpot plan
HubSpot has SO. MANY. Pricing tiers and options. This is great as it gives the flexibility to pay for the tools you need without investing in things you don't... but it can also be overwhelming and stressful when you're looking at all the plans and trying to figure out which is best for your business.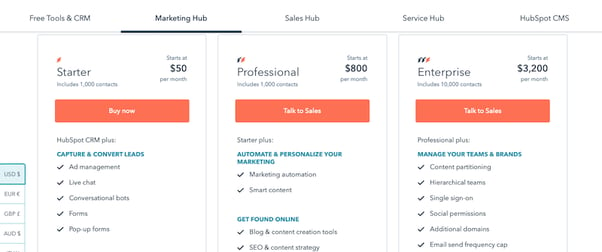 First, you must understand that the HubSpot platform is arranged into different 'Hubs':
Marketing
Sales
Customer Service
Operations
You can choose to purchase a hub individually or in tandem with others, but remember: HubSpot is all about being holistic! For best results, you want to bring in as many aspects of your business as possible.
Each of these comes with an array of tools to help you achieve that department's goals and has four pricing tiers: Free, Starter, Professional, and Enterprise. (Psst: Looking for automation features to take manual work off your plate? You'll need at least a Pro subscription in marketing or sales, depending on what you want to automate.
For the purposes of this blog, we're going to help you choose a HubSpot Marketing plan. We go into the details of each and who should use them below, but first there are some general considerations you should think about before choosing your tier:
Set goals
What are you trying to achieve with HubSpot? Implementing HubSpot without a concrete goal in mind is one of the most common mistakes we see. Once you have decided on your goals, you can determine which tier is best suited to help you reach them.
Determine what features you need
HubSpot is all about functionality and tools -- but there's no sense paying for things that you don't need and aren't going to use. Use your HubSpot goals to inform what kind of features you'll need, and select a tier that has your essentials but no costly extras.
Analyze your business stage
Start-ups have very different marketing needs than large organizations that have been running campaigns for years. Naturally, small businesses are typically a better fit for the Free or Starter plans and larger firms will gravitate to the Pro and Enterprise plans.
Another important question is whether you're scaling and hoping to rapidly grow in the coming months. If that's the case, you may need a more advanced plan to set you up for success.
Consider your customers
It's all well and good to talk about your company's needs and goals. But what about the most important person in any type of marketing: the customer?
Your customers are as unique as your business, and no one knows their wants and desires like you. Whatever their expectations are around marketing, choose the plan that will make it easy to deliver and delight.
Set your budget
We'd be naive to think that budget isn't an important consideration. The great news is that HubSpot offers a free-forever plan as well as a wide range of pricing options that make sense for any business.
For a full picture of the price of each plan and what's included, check out HubSpot's pricing page or keep reading!
HubSpot's free plan
What do you get with HubSpot Marketing Hub Free?

HubSpot's free plan is amazing because it isn't just a free trial -- it's free forever. It's a great way to try HubSpot, especially if you've never used a CRM before, and see if it's a good fit for your business before making a significant investment.
With the free plan, you still get access to the HubSpot tools that really matter for capturing leads: forms, landing pages, live chat, reporting dashboards, and of course, email marketing.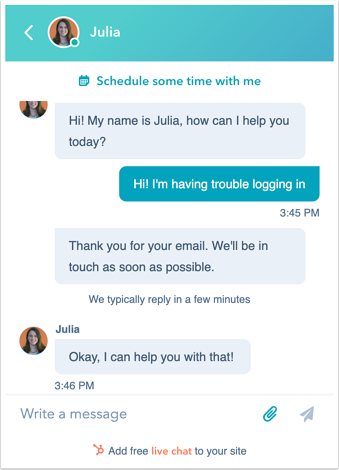 The only drawback is that most of these tools have limited features. For example, you'll be limited to 2,000 email sends per month, can only segment your contacts into 5 lists, and don't have access to the drag-and-drop landing page editor. You can only set up 3 dashboards, and while the plan recently changed to let you send an automated email after a lead comes in through a form, this is limited to a one-time message.
There will also be HubSpot branding on any page or form you build on the free plan, which can take your brand out of the spotlight.
You can store up to 1,000,000 contacts on the free plan, but be careful: if and when you switch to a paid plan, your monthly fee will depend on your contact list. Be sure to clean up your database and remove any no-longer-used contacts before changing your subscription.
Who should use Marketing Hub Free?
As we mentioned above, the free plan is a great way to try HubSpot. If you're not sure if a CRM is right for you or you're new to the concept of inbound marketing, this plan gives you the most essential tools without overwhelming you with options.
The free plan is also an excellent choice for start-ups and entrepreneurs who need access to marketing tools but have a very limited budget. Since it's free forever, businesses can take advantage of this plan until they've grown enough to upgrade to a paid tier.
HubSpot's starter plan

What do you get with HubSpot Marketing Hub Starter?
HubSpot's Starter plan is a small step up from the free plan: it offers more robust features and lets you expand on some of the tools. Starting at just $45/month if you have 1,000 contacts (additional contacts can be added at a rate of $45 per 1,000), it's a great way to uplevel your marketing strategy without breaking the bank.
Rather than just 2,000 email sends per month, you'll cap out at 5x the number of contacts. You can sort your contacts into 25 active lists, and send up to 3 automated emails to leads after they submit a form. Build up to 10 reporting dashboards with any combination of standard reports.
You can also begin to access HubSpot tech support at this tier. Support is available through email or in-app live chat for Starter customers.
Who should use HubSpot Marketing Hub Starter?
If you're a small company with a limited marketing budget, the Starter plan is the perfect fit for you!
You need marketing power. You need the ability to report and prove the ROI of your campaigns (and your investment in HubSpot!). The Starter plan can help.
HubSpot's Pro Plan

What do you get with HubSpot Marketing Hub Pro?
The Pro plan is where things start to really get interesting. While it does upgrade some of the features already available in the starter plan (1,000 contact lists, 25 reporting dashboards, and email sends to 10x your contact list), it also adds a lot of new and exciting tools that can have a huge impact on your growth and success.
First, you can build automated workflows that are always running in the background to take care of lead nurturing, manual tasks, and more.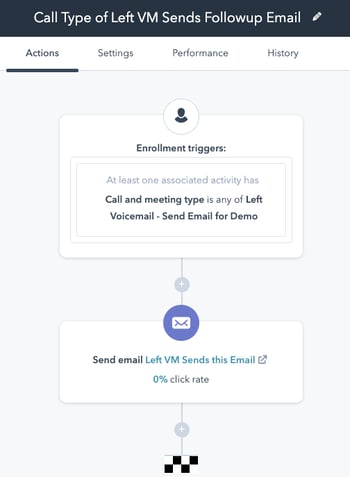 Access more analytics and use custom reports to dive into any data point or statistic that matters to you.
Start publishing content like never before with HubSpot's blog feature that includes SEO and content recommendations, Call to Action buttons, subdomains, and more.
Try out multiple versions of your landing pages with A/B testing, post and report on up to 50 social accounts, or build out teams to manage access and roles.
And if you get stuck implementing any of these awesome new features, you can also dial into phone support and have a conversation with an expert HubSpot rep.
Who should use HubSpot Marketing Hub Pro?
Most companies with a dedicated marketing department choose the Pro plan. While it is a big investment compared to the starter plan (starting at $800/month with 2,000 contacts), it can actually be the better choice for companies with relatively small marketing budgets. The automation features allow you to do more with less, so your team will spend more time creating winning campaigns and less time managing the nitty-gritty details of them.
If you're at least a mid-sized company that wants to take their content and marketing to the next level, a Pro account is the place to start.
The Pro plan is also comparative to other CRMs, so if you're switching from another platform, this may be the best choice for an easy transition.
HubSpot's Enterprise Plan

What do you get with HubSpot Marketing Hub Enterprise?
The Enterprise plan is built for large organizations that have a large number of leads and significant marketing campaigns happening all the time.
It mostly builds on the features of the Pro plan and adds a few new tools that will help you manage a larger team: create hierarchical structures, enable single sign-on, and easily integrate with platforms like Salesforce. You can also create playbooks to provide coaching and guidance as your team grows.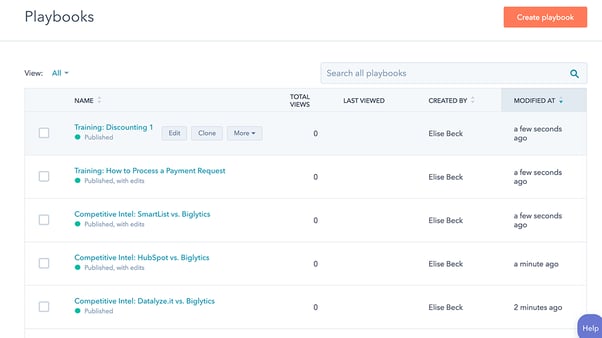 You can build up to 500 custom reports with the enterprise plan. It also comes with predictive lead scoring that uses AI to leverage your prospects.
Who should use HubSpot Marketing Plan Enterprise?
With a hefty starting cost of $3200 a month, the Enterprise plan is clearly designed for very large organizations with big teams and a big budget. It's designed for those that have hundreds of leads coming in every day and need the technology to manage them.
The enterprise plan is most commonly used by companies in SaaS or other B2B companies that do all of their business online.
Which plan will you choose?
One of the great things about HubSpot is no matter which plan you choose, you're going to unlock some of the best tools in the trade for managing your business and delighting your customers.
Use what you know about your company, including your goals, needs, and your customer's desires, and you're sure to find a plan that works for you.
Need help picking a plan? Feel like you're not getting the most out of your current investment? We've been helped dozens of businesses just like yours achieve HubSpot success. Get in touch today!