Companies that successfully align their marketing and sales teams find that improving communications is the key. Creating a partnership between marketing and sales takes effort and practice in cooperation. When communication between the departments flows smoothly, both sales and marketing become more productive. Here are some valuable tips that will help you improve the positive interaction between both teams.
Frequent Team Meetings
Although meetings have become less popular over the years, especially with so many people working from home, frequent meetings promote better communication between sales and marketing teams. Meetings can be used to keep all team members updated and share information to everyone simultaneously.
If your group is small, you can get feedback directly from members who see projects from differing perspectives. If your entire team is too large to keep a weekly meeting to 60 minutes or less, you can add a secondary weekly meeting for subsets of the main group to get more one-on-one feedback.
Build Relationships
Traditional management structure in companies has the managers of sales and marketing reporting to their own VPs. This structure separates the sales and marketing teams and keeps information flow between the two teams minimal. A better structure is to have the team members work together with their counterpart, then have both teams report together to upper management. This structure helps generate solutions at the team level, and problem solving is less likely to require a VP to step in.
Integrate Customer Information
It is not uncommon for sales and marketing departments to have differing information on customers. This disparity in information can cause dissension and misunderstandings. It is a better practice to pool the information gathered by both teams to allow them to work on projects from the same perspective.
Integrate Desk Locations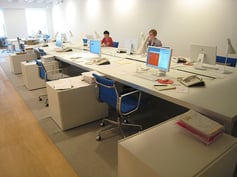 Since both sales and marketing spark ideas through informal discussions and intuitive leaps, putting desk locations nearby makes sense. With their desks near each other, team members have immediate access to someone on the partner team for a different perspective and input.
Consider Job Rotations
Some companies give their marketing and sales professionals an opportunity to better understand each other's job through job rotations. These can be varying lengths of time or allow partnering as an observer. Job rotations put the marketers in the sales professionals' shoes and vice versa, giving them a chance to see what the other job entails.
Focus on Customer Issues
Since customer intent is the most important part of the sales-marketing continuum, having both departments working to focus on customer issues makes for a better partnership. Sales primarily is looking to complete a transaction with the customer, fulfilling their needs with applicable products and services. If marketing focuses on how to position sales for success, both departments come out as winners.
Integrated Software
To promote this process even further, using marketing and sales software that integrates both teams together is a plus. We prefer to work with HubSpot's sales and marketing software to help ties this all together to help organize, track and sell in a way that closes the loop between sales and marketing. When executing an online paid advertising and/or inbound marketing campaign having these tools in place will help you gain better intel faster, and specifically identify which parts of your marketing & advertising investment are actually getting traction.